In-Home Personal Care & Companion Services
Available from 1+ hours to 24 hours 7 days a week live-in care
Serving Sydney & NSW Areas
Care From 1 to 24 Hours Per Day
Can Start On The Same Day
Free Personalised Care Plans
About Our Personal Care & Companion Services
Personal hygiene and grooming are essential to our overall health and wellbeing at any age, no matter our level of ability. Unfortunately, for many Australians, these things can become challenging with age, or when living with a disability, illness or injury.
That's why, at Care For Family, we provide private in-home personal care services from a compassionate and qualified team of care workers.
Assistance with personal care from our team of discreet, in-home personal care professionals can make an enormous impact on the lives of our clients; helping them to maintain their dignity and independence and ensure their ongoing health and wellbeing.
In addition to personal care services, we also offer companionship support services. At Care For Family, we understand that quality of life is strongly linked to having companionship, especially as we age. The impact of companion services on seniors is improved wellbeing, and often a longer and healthier life.

Booking our in-home Personal Care & Companionship Services
Booking our in-home care services couldn't be simpler. All you need to do is:
Call us on

 

02 9343 0880

 

or

 

click here

 

to request a callback
We'll then provide a FREE telephone or in-home consultation to help you to decide on the support you need
If you'd like to proceed, simply book our services and we can start on the same day
"I was so impressed that within 8 hours of requesting care for my Mum we had a care team in place offering the most incredible caring support."
"It was a huge relief knowing the care team was always practicing the highest level of professionalism and to know that the same familiar team members arrived every day and night."
"The care team's support and dedication was truly amazing. Each of the carers enriched Mr Smith's life in some way and I know that he enjoyed their company. They were always on time for their shifts and so pleasant to be with and I formed a lovely bond with each of them."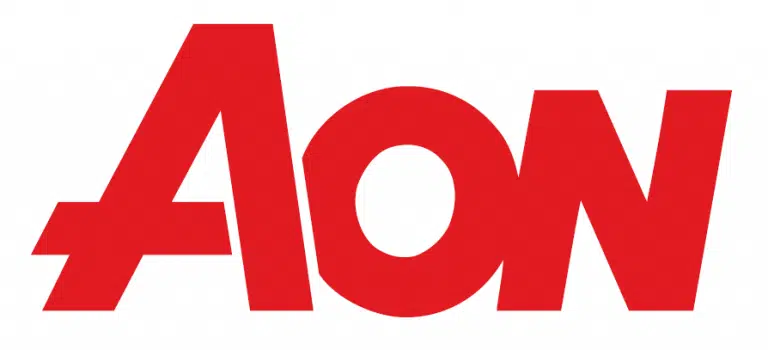 Personal care services from Care For Family offer our clients assistance with personal hygiene and grooming tasks that have become difficult to manage. Personal care services that can help you or your loved one may include:
Showering and bathing
Dressing
Shaving
Hairstyling
Dental hygiene and denture care
Podiatry
Nutrition
Mental health and wellbeing
Skin integrity management
Prompting for the taking of medication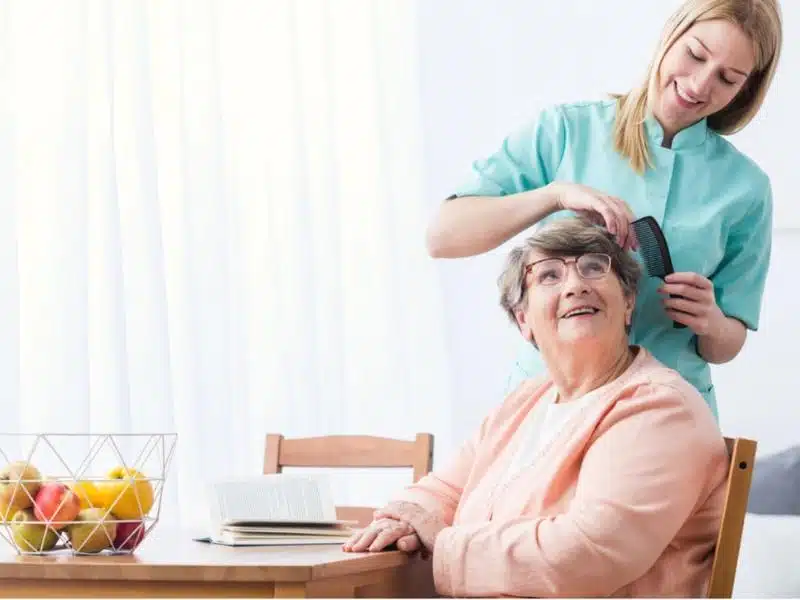 More about personal care & companionship
Personal care for the elderly
Although personal care services are available to anyone who needs them, no matter their age (due to accident or illness, for example), elderly Australians are the most likely to find themselves in need of these services.
As we get older, we can experience many changes in our abilities, and these changes can affect our ability to see to our own basic needs.
Having a caring professional to assist with daily activities can avoid the harmful emotional impact on our self-esteem and also help to prevent the incidents of unnecessary health issues.
First and foremost, our care professionals will support you or your loved on to maintain their dignity whilst continuing to enjoy a healthy and fulfilling lifestyle.
What is companionship?
Companionship support services provide vital emotional and personal care support for the elderly who are generally healthy and wish to remain at home, living independently, for as long as possible.
This could mean providing emotional support in order to improve the quality of life of clients or providing physical support such as help with grocery shopping, light domestic duties, visiting the doctor, and other chores.
Companionship care enables our clients to enjoy life at home, continue doing the things they love, and live independent and fulfilled lives. A companion is someone that our clients not only look forward to visiting with, but is also someone they can rely on. Companionship services offer a broad range of benefits across all aspects of our lives, including physical and mental health.
Companionship care from compassionate and dedicated care professionals can assist with preventing loneliness, reducing the risk of depression and anxiety, and even improving the odds against dementia and forgetfulness.
Unsure about where to start?
With years of experience in in-home care, we're available to help you work out what support you need. Whether you are planning for the future or would like to start care immediately, we can help. Give us a call, we'd love to hear form you.
What can I expect from a personal care assistant?
Personal care workers, also known as caregivers, personal attendants, homemakers or companions, are very special people.
They dedicate their working lives to assisting with the daily tasks of elderly, mentally impaired, chronically ill, or physically challenged clients, whether in their own homes, in hospice, or within residential care facilities.
Their role is an incredibly diverse one, that centres around providing physical and emotional support for their clients, to help them live happy, fulfilled and independent lives.
Personal care assistants might visit many patients during their day or be dedicated to a specific client.
They are generally responsible for light cleaning, cooking, running errands, and doing laundry, as well as assisting clients with personal care such as bathing and showering, grooming, and other personal hygiene needs.
Beyond these care-related tasks, personal assistants also engage clients in activities such as reading, talking, and playing games.
In addition to caring for their client, personal care workers may consult with family members to address any concerns regarding their client's health, nutrition and over overall wellbeing.
Care For Family's personal care assistants
At Care For Family, our team of personal care assistants and companions are first and foremost compassionate, caring, and dedicated to improving the health and wellbeing of our clients.
They each possess a working knowledge of basic health care and hygiene standards, excellent communication skills, and are trained in understanding and seeing to our clients' individual needs.
The majority of our care professionals have learned their impressive skills in personal care through extensive experience and training. This includes experience working with challenging or anxious clients.
Our care workers are respectful and sensitive to the requirements of clients with complex care needs.
Alongside their experience and training, the vast majority of our care workers possess tertiary qualifications, including but not limited to Certificate III in Aged Care, Certificate IV in Aged Care, or a Diploma qualification.
Many of our workers also have a nursing background or are attending bridging courses to qualify as registered nurses (RNs), and a number of our care professionals are undertaking university studies to obtain their Masters in Nursing.
Our personal care workers are responsible, flexible, professional and most importantly, dependable at all times; which is why we at Care For Family are regarded as the leading provider of private in-home care services across Greater Sydney.
What is a personal care support plan?
At Care For Family, we are dedicated to a person-centred approach to care. Ensuring that our care puts our client's needs, wellbeing, and personal preferences for care at the centre of our care services means having a detailed personal care plan.
This care plan allows our care professionals to be informed about important information regarding each individual client, including their personal and medical needs, prescribed medicines, and how they should be managed, and more.
The care plan also outlines our client's likes, dislikes, hobbies and other interests, leading to a more rewarding level of care from our compassionate and highly skilled care workers.
A personal care plan is regularly reviewed with our client and their family to ensure that it's kept up to date and relevant and is adjusted as care needs change.
Does Care For Family provide in-home personal care for people living with dementia?
People living with dementia, just like all older adults, can be subject to conditions such as incontinence, infections, dental issues and hygiene issues.
In addition to these concerns, those with dementia can experience a range of dementia-related symptoms such as confusion and paranoia, aggression, loss of memory and loss of function, that can make their care needs more complex.
At Care For Family, we have many years of experience in caring for dementia patients, and our care workers work with clients and their families to treat and manage the symptoms experienced by our clients, and consult with family members to understand these complex needs.
At Care For Family, our trained registered nurses can prepare a care plan with nursing goals for our clients with Parkinson's disease. The goals in this care plan are detailed and cover all aspects of our client's wellbeing, both physical and mental, and include:
Improving functional mobility
Maintaining independence in performing ADLs (assistance with daily living activities)
Achieving optimal bowel elimination
Attaining and maintaining acceptable nutritional status
Achieving effective communication
Developing positive coping mechanisms
As dementia patients are often unable to express their discomfort, our care workers are trained in recognising changes in behaviour so that family members can seek guidance from medical professionals for additional medical support and assessment.
For more information on the care we offer for people living with dementia, please see our In-Home Dementia Care and Alzheimer's Care Service page.
If you require in-home care outside of business hours due to an emergency, please call 0466 888 842.
What personal care and companion care services does Care For Family offer?
Our extensive range of personal care and companion care services can assist with all areas of life for those experiencing difficultly with daily tasks. These include:
Grooming
Personal hygiene and grooming are not only vital for our health and wellbeing, but for our sense of self-esteem. This is true at any age and level of ability. An in-home care professional can help with all manner of personal grooming and hygiene, including bathing and showering or sponge bathing for those with more severely limited mobility.
Meal Preparation & assistance with feeding
If your loved one is unable to feed themselves in a manner that promotes dignity and respect, as well as ensuring adequate nutrition, our care professionals can prepare a meal and assist with feeding.
Toileting and continence care
Our in-home care professionals are trained to understand and provide professional supervision or direct assistance with the entire toiling process, ensuring sensitivity and dignity are maintained at all times. Our care professionals are also able to ensure that hygiene is maintained for those experiencing incontinence.
Dressing
Getting dressed and ready for the day is a normal part of daily life, but having health issues such as arthritis, post-surgery limitations, or other health conditions can make it difficult for some people. Getting dressed should not be a constant struggle or the reason that your loved one loses independence.
Our carers can assist with getting dressed and undressed, and there are also many inexpensive dressing aids available to make this process easier.
Mobility
Mobility is crucial to maintaining independence. The loss of mobility can have profound social, psychological and physical consequences, and tends to be most common for the elderly. Our care professionals can assist help with safely getting in and out of bed or the car, or simply with getting around the home. As with all of our clients, when it comes to providing care for the elderly, safety is our highest priority.
Seniors can be more susceptible to injury from falls, which is why we recommend and facilitate light stretching and other low-impact exercises, in order to maintain joint mobility and muscle strength.
How does Care For Family help clients find the right personal care assistant for them?
At Care For Family, all our care workers are thoroughly scrutinised during the interview process and are subject to criminal history and reference checks. To make sure our clients receive the best personal care we at Care For Family, we are dedicated to ensuring that all of our clients:
Are treated with respect
Are involved in deciding what care will meet their needs
Are given a written agreement covering everything that our client and Care For Family have agreed to
Have their privacy and confidentiality maintained
Are given information on how to make comments and/or complaints about the care and services they receive
Have our fees determined in a way that is transparent, accessible and fair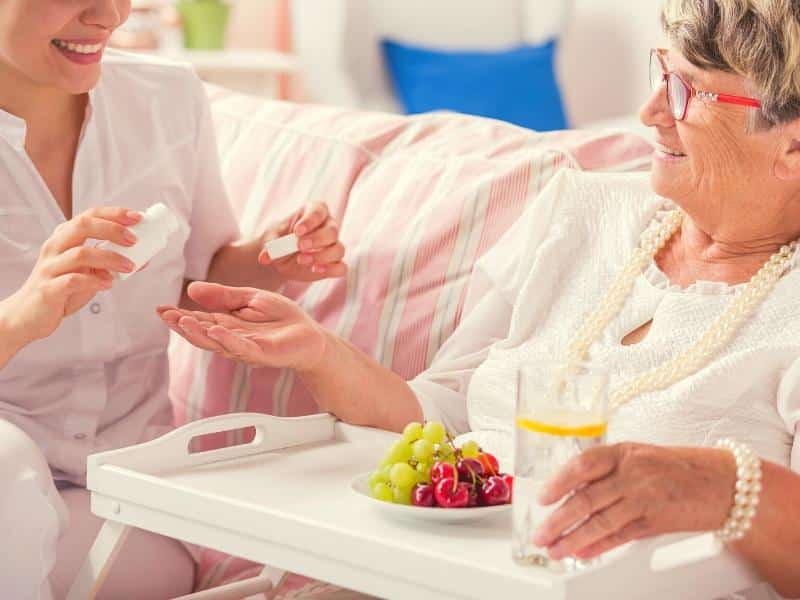 Unsure about where to start?
With years of experience in in-home care, we're available to help you work out what support you need. Whether you are planning for the future or would like to start care immediately, we can help. Give us a call, we'd love to hear form you.
Our Private In-Home Care Services
Available from 1+ hours to 24 hours 7 days a week live-in care
Around The Clock Home Care
Live-in Home Care for Seniors
Palliative Care For Children
As long-term experts in aged care, we've been featured by many online and offline publications providing helpful advice, recommendations and commentary.